Nichols Sheet Metal Heating and Cooling is owned and operated by Jared Nichols.
The company, established in 1993, was built from the ground up. The top-notched reputation earned by this company has been the sole contributing factor to it's success. Starting in a small rental of under 1,000 sq. ft., then in 1996/97 we moved to a 2,500 sq. ft. rental, also in Belpre, Ohio.
In 1999 we purchased the location at 2505 Washington Blvd.
In 2009, we purchased our current location at 1114, S.R. 339, Belpre, OH
We currently have a fleet of six on the road to adequately service our territories.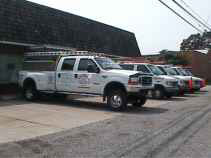 Our company has been very active over the years with the communities we serve. From sponsoring youth sports teams to sponsoring local race car teams, we've been involved.
We received a prestige award from "Belpre Area Chamber of Commerce" in 1999 for Most Improved Business.
Also, we received an award as an originator of the positive signage "Support Our Good Neighbor" following the tragic misfortune at Shell Chemical Company of Belpre, now known as Kraton Polymers.

During the summer of 2003, Nichols Heating and Cooling played an active role in the
"Jessica Lynch Home Project"
. Through the combined efforts of Maytag,
2-J Supply
and the Nichols team, we provided the former P.O.W. a complete turn-key HVAC system at no charge. As Americans, we should give the deserved honor and respect to all the men and women, past and present, of our Armed Forces and National Guards. After all, it is a direct result of their dedication that makes "America" as we know it.
In the fall of 2003 we renovated/reorganized our warehouse department. This improvement aided in our ability to stock more volume and more variety of the H.V.A.C. supplies we use on a daily basis.

We are increasing our active involvement in local organizations by serving on the Board of Directors of the MOV Home Builders Association.